The 1960's supermodel, Wilhelmina was born in 1940 in the Netherlands. As both a model and models agent, she enjoyed success, international fame, fortune and respect throughout her career two careers.
Her birth name is Wilhelmina Behmenburg. Her family moved to Chicago, Illinois in 1954 for better opportunities. By this time, "Willy" (as she became known to her close circle of friends and colleagues), was fourteen years old. She had begun to blossom into a beautiful girl. As a model, the Dutch beauty became internationally famous a Wilhelmina. And as an agency owner she was known as
Wilhelmina Cooper
.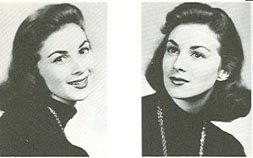 Willy met with Eileen and Jerry Ford at Ford Models in New York City. They signed her to the agency, and she soon became one of the highest paid models of the 1960s. By this time, Willy had a modern style of beauty that was easy to promote. She was elegant, beautiful and had enough class to model the latest couture collections in the top glossy magazines such as Vogue and Harper's Bazaar. Yet, she had just the right touch of "mod" to compete with the British supermodels like Twiggy and Jean Shrimpton, and the Prussian-born Veruschka.
In 1965, she married Bruce Cooper. He was a former executive producer of Johnny Carson's The Tonight Show. Bruce gave Wilhelmina the confidence and the support that she needed to take on new challenges.
In 1967, Wilhelmina was already one of the most sought after high-fashion supermodels thanks to her working with Ford Models. She was well praised in the business, was well liked and knew everyone there was to know in the business and around it too. At the peak of her success, she and her husband founded in New York City her own agency with the help of two minority partners. The agency, called Wilhelmina Models, was an immediate success. Upon the creation of the agency, Wilhelmina was still a top earning model on the books of Ford Models. Eileen Ford did not take too kindly to having "one of her own" become one of her top competitors. After all, Ford Models had groomed Wilhelmina in a consummate professional and took her to the top of the fashion world. The Fords "forgave" Willy, and they eventually became close again, but not so as before.
At Wilhelmina Models, Willy continued to work as a model on top assignments for magazines like Vogue while she ran her agency. Thanks to the guidance that she had received while a model at the Ford's, Willy was already an internationally respected model. She was known for being a hard worker too, which greatly aided in getting top clients to come her way now that she was installed as the big cheese at her own agency. She also used her own intimate knowledge of the industry to help shape new talent and to infuse her agency with a different spirit than that which had reigned at Ford Models.
When she opened, she called all the top photographers that she knew. They all were happy to work with her because they knew the kind of person that she was. She also worked greatly with Edgar de Evia during this period. He booked her models for various prestigious jobs. The models that Wilhelmina Models discovered graced countless magazine covers worldwide (as is still the case today), worked with top photographers such as Peter Beard, Richard Avedon, Francesco Scavullo and scored top advertisement campaigns.
Wilhelmina proved to be a most able agent. She had an eye for new talent. She launched the careers of famous models such as the tragic beauty Gia Carangi and Iman. Willy also proved to have flair for the over-the-top and for the dramatic. She and her agency put together a press conference for the coming of Iman. During the conference, her agents claimed that Iman was a sheep herder in Africa and that she spoke no English. The tactic worked and created a mystic around the university student before she had even arrived in on US soil.
In the late 1970s, Wilhelmina was diagnosed with lung cancer. Even in sickness she continued to get guide the agency that she had built up from the ground and transformed into an international powerhouse. Subcoming to her illness, she was admitted to Greenwich Hospital in Greenwich, Connecticut. Wilhelmina died March 1, 1980 at the age of 40 years old, but not before she secured her last cover of a major fashion magazine. Upon her death, she Wilhelmina had set the record at 27 for the most covers by a single model on the American edition of Vogue. That record has yet to be broken today. After her death more than 20 years later, the agency which bears her name continues to have name recognition and respect not in the United States, but in ever major fashion market around the planet.